Investing In The Next Generation Of Electric Vehicles
Did Elon Musk overpromise and underdeliver? Probably, but his vision of a dead-sexy Electric Vehicle (EV) that can outclass petrol burning cars is clearly a massive hit. Elon's idea was so wildly popular that it was hard for Tesla Motors to scale up production, and now he is being hit with criticism from all sides.

Let's call this situation a big win for EVs and a learning experience for a man whose vision (and mouth) far exceeded his grasp and ability. Whatever happens with Tesla Motors, the market for EVs just seems to be getting better. There are more than 45 automotive brands selling EVs in China, and in Vancouver, a new company is moving towards the production of a revolutionary little EV.

Electra Meccanica (NASDAQ: SOLO) was founded in 2015, but originally date back to 1959, when they were building sports cars under the Intermecannica brand. They started work on their SOLO EV in 2012 which developed into a very cool concept for individual transportation. Unlike Tesla Motors that took on the standard 4 seat car, Electra Meccanica is developing a single-seat EV that is perfect for urban transportation. The SOLO has three wheels, two doors, and will carry a single person for around 150 km before its 16 kWh battery needs a charge.

Is it a Tesla Roadster? Well, no. But unlike many of the EVs that are out there today, Electra Meccanica's SOLO has the potential to redefine what transportation is in some environments.

Do You Really Need a 20th Century Car?

The mould that has dictated what a car is was cast more than a century ago. The four-door, four-seater is growing more archaic, and the new SOLO from Electra Meccanica could be an example of a better platform for a new way of living.
Most people don't use all of their cars space. For people that don't have a family, driving a sub-compact means wasting a lot of resources. EVs have the potential to slash carbon emissions, but there is no reason to waste electricity.

In addition to being an extremely efficient use of resources, the SOLO is a blast to drive. Urban environments aren't the best place to drive supercars, but the incredible handling ability that the SOLO delivers will be appreciated by almost every driver. That is a lot of functionality for less than $20K USD, which is probably why Electra Meccanica had no problem going public on the NASDAQ.

Time for Some New Ideas

It is easy to get stuck in a rut. The same overarching design paradigm has dominated automotive technology for more than 100 years. The kind of technology we have today is vastly different than a century ago, and the way that people live has changed dramatically during that time.

Electra Meccanica's operations are focused on British Columbia, and demonstrate that viable manufacturing operations can exist outside of the "global south". The rise in EVs is probably a sign of even bigger changes that are coming, and if you want to learn about the technologies that make all these changes possible, the upcoming Extraordinary Future 18 conference is the place to be. In addition to EV's, Artificial Intelligence, Machine Learning, Virtual Reality, and numerous other cutting-edge industries will be represented.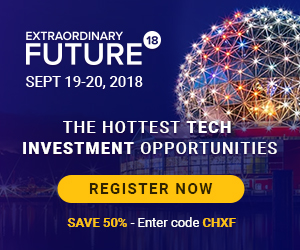 Extraordinary Future 18 will be happening in downtown Vancouver, on September 19th and 20th, at the Vancouver Convention Center East. Register now if you want to listen to presentations from some of the brightest minds in emerging technologies, and connect with people that are at the forefront of next-generation design trends!