Why Uranium Is Still A High Powered Investment in 2018
The uranium market is probably in the process of forming a bottom. The price of U308 has been stable since 2017 began, and today it is actually showing sight gains over the last year or two. None of this has done much to help the share prices for uranium companies, which could mean opportunities for investors. In March 2018 we looked at the top uranium companies and now we look at what has changed and the potential for the future.
Cameco's shares are sitting close to where they were trading a year ago. Despite some weakness over the last few months, they are trading near $11 USD again. The same thing is true for Denison Mines, who is once again trading near $0.50 a USD a share. In short, the market for uranium, and uranium stocks is extremely boring.
The fundamentals for uranium, on the other hand, are looking better all the time. Legendary investor Rick Rule has talked about the importance of Japan's fleet of nuclear reactors coming back online. So far there are eight that are back in service, and there doesn't appear to be much of a public backlash against this policy in Japan.
Doug Casey Loves Yellowcake
In a recent interview with Palisade Radio, Doug Casey talked about why uranium is a great market to keep an eye on. Doug points out that we are likely at the bottom of a long-running bear market in uranium, and now is the time to pick up massively undervalued assets. Whether or not the market for yellowcake will improve this year is mostly irrelevant, because when it does, Doug sees the moves coming that will be "explosive."
While the price of uranium has been in the doldrums, and uranium stocks have been under pressure, the fundamentals for yellowcake have been improving. There has been absolutely no change in the build-out of nuclear reactors around the world, which represent real demand in a market that is shedding capacity.
China and India have more than 50 reactors under construction, and numerous other countries want to harness the power of the atom for cheap, clean electricity. At the same time capacity is being added, major uranium miners are curtailing operations from the Athabasca Basin to Kazakhstan.
Additionally, some of the world's largest uranium mines only have five to ten years left before they run out of economically viable feedstock. This all looks like a classic resource bull market in the making, but when it takes off is anyone's guess.
What is Going to Power the Future?
It is no secret that sustainable power and Electric Vehicles (EVs) are becoming popular globally. There is no doubt that emissions are part of why EV's make sense for nations like China, but fuel security is a big benefit to power sources that don't require huge amounts of imported energy.
One of the biggest advantages there is today for uranium investors is that level of consolidation that has taken place in the junior sector over the last decade. 2008 saw the end of the uranium bubble, and in the in wake of the Fukuyama-Daiichi disaster, numerous uranium juniors just couldn't survive.
Now that the bottom in U308 prices is probably in, some of the companies that have survived are probably worth digging into. Uranium Energy Corp (UEC) is trading at the same level it was a year ago, and has one of the only fully permitted yellowcake production facilities in the USA. Companies like Blue Sky Uranium would have been in the stratosphere in 2007, and now it can be had for a market cap of less than C$20 million.
Clearly, there are some potential opportunities in the uranium sector.
Getting the Inside The Industry
If you want to learn more about other small-cap uranium companies, check out this presentation from the most recent International Mining Investment Conference. It is moderated by Nick Hodge and features two CEO's that know the uranium market inside and out. Canada is one of the best uranium mining jurisdictions in the world, and probably has numerous untapped resources that will help power a cleaner future.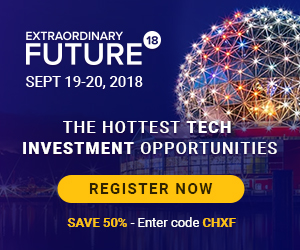 If you would like to learn more about what is going on in the Canadian tech sector, Extraordinary Future 18 will be happening on September 19th and 20th, at the Vancouver Convention Center East. Register now to meet with leading tech CEO's in one-on-one meetings, and learn about the companies that could be influential in the next generation of human development!