Finding New Investing Opportunities in Canadian Cannabis
Now that cannabis is legal in Canada, there are going to be a few changes to a market that was operating in a legal gray area for decades. One of the biggest changes to the cannabis industry is an increased level of oversight. Specifically, the rules that govern the ownership and operation of cannabis businesses stress the need for security checks.
Key positions within the corporate structure, as well as in the cannabis growing facilities, will now be subject to federal background checks. For example, anyone who is a master grower, or in a security position at a cannabis facility, will now need to have special clearance. The federal government is serious about these security checks. Any company that applies for security clearances, and is refused, could be denied operating licenses.
The kind of data that will be required to pass these security clearances is not going to be cheap to provide. It is up to the cannabis company to collect all the relevant information for their key employees, or owners, and submit it to the government. This puts a lot of pressure on smaller companies, who may not have the margins to justify the expense of extensive background checks.
Big Getting Bigger
Another part of the new cannabis laws that seem to favour larger producers is the classification system for growing operations. The standard license for growers is now unlimited, meaning they can grow as much cannabis as they want in an unlimited area. The other two are micro and nursery, which are limited to 200 and 50 square meters, respectively.
In addition to unlimited growing space, the new laws require only two employees with security clearances per facility, instead of per room. The ability for massive cannabis farms to expand into grow rooms that are as large as desired, with only two employees that have passed the security clearance is a big boost for larger operations.
There are a few other areas where a company can operate, including processing, testing, sale, research and cannabis drug licenses, but many of these industries are likely to be taken over by larger companies who have relevant experience in other fields.
Sales is an area where it appears that the provincial governments will be working with existing state agencies to control the sale of cannabis, though some provinces are open to allowing private parties to participate in distribution at a retail scale. For example in British Columbia, the state and local liquor stores are working to be the distributors for the province.
New Opportunities for Investors
To begin with, the sale of cannabis via legal channels is likely to rise and may encourage new consumers to come into the market. The recent takeover of Hiku by Canopy is a perfect example of the bigger-is-better philosophy that will likely prevail in the Canadian cannabis space over the next few years. Hiku shareholders scored a nice premium to the 20 day VWAP for their shares, and Canopy now has even more to offer potential investors.
The federal cannabis laws would seem to support the movement away from smaller operations, and towards larger, industrial-scale growing and processing. The new laws also remove some amount of first-mover advantages, as many of the people that were involved in the cannabis space prior to legalization could be refused a security clearance based on the grounds they were a part of a criminal enterprise.
For investors, the newly legalized market is a great opportunity, and worth keeping an eye on.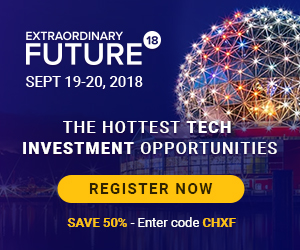 Extraordinary Future 18 will be happening on September 19th and 20th, at the Vancouver Convention Center East. Register now to meet with leading tech CEO's in one-on-one meetings, and learn about the companies that could be influential in the next generation of human development!