Which Battery Metal Will Offer The Biggest Return in 2018?
The way that people power their lives is rapidly changing. Today, long-standing energy assumptions are being questioned as the demand for battery storage has skyrocketed with no signs of slowing down.
Coal is no longer the cheapest source of power out there, and oil may not be the transportation fuel of the future. Technology is making huge inroads in these industries, and in turn, creating amazing opportunities for investors. For more information check out Your Ultimate Guide To Battery Metal Investing.
Join Gianni Kovacevic as he moderates our Extraordinary Future 18 featured panel showcasing the investment opportunities in the battery metals sector and which materials can offer the greatest return for investors.
Gianni Kovacevic is a thought leader on realistic environmentalism, a well-known investor in the natural resource sector and an expert on all things related to copper. His recently published book, "My Electrician Drives a Porsche?", inspires readers how to become aware participants in the trends of changing demographics and technology by illustrating what makes their combination possible and how this will affect many aspects of our daily lives.
To round off our panel will also be featuring some of the top companies in the battery metals sector today, including American Manganese and Global Energy Metals
If you want to learn more investing in battery metals the upcoming Extraordinary Future 18 is a great place to get in touch with technology. It will feature some of the best minds in tech and will be happening on September 19th and 20th, at the Vancouver Convention Center East.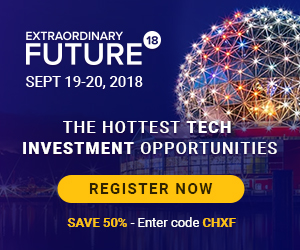 Register now and save 50% with promo code "CHXF" plus meet with leading tech CEO's, and listen to presentations from some of the brightest minds in technology!