The Top 3 Investor Insights Of July 2018
Last month was especially interesting as we looked at a wide range of topics from the state of uranium and cannabis, to tips to help avoid common mistakes investors make. In our monthly roundup, we bring together the most popular investing topics and also look at companies investors are watching.
Why Uranium Is Still A High Powered Investment in 2018
The uranium market is probably in the process of forming a bottom. The price of U308 has been stable since 2017 began, and today it is actually showing sight gains over the last year or two. None of this has done much to help the share prices for uranium companies, which could mean opportunities...Read More
The Top Three Mistakes Investors Make
Making money in the resource sector isn't easy. Many investors see the fundamentals for a metal like gold or copper and want to buy into what they view as a great opportunity. The problem is, the mining sector trades a lot differently than the commodities it produces. This makes investing more...Read More
Finding New Investing Opportunities in Canadian Cannabis
Now that cannabis is legal in Canada, there are going to be a few changes to a market that was operating in a legal gray area for decades. One of the biggest changes to the cannabis industry is an increased level of oversight. Specifically, the rules that govern the ownership and operation of...Read More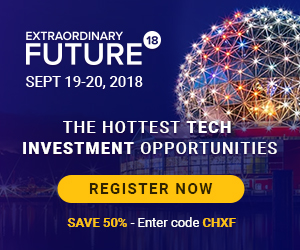 If you would like to learn more about what is going on in the Canadian tech sector, Extraordinary Future 18 will be happening on September 19th and 20th, at the Vancouver Convention Center East. Register now to meet with leading tech CEO's in one-on-one meetings, and learn about the companies that could be influential in the next generation of human development!