Evergreen Brickworks
#300 - 550 Bayview Ave
Toronto, ON, M4W 3X8
Canada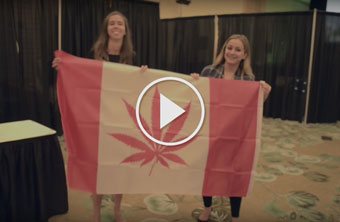 Cannabis Life Conference Toronto
An Informative Journey Exploring an Alternative Medicine
There has never been a more exciting time to talk Cannabis, and this year's Cannabis Life Conference will bring an amplified experience to attendees. Join us May 13th and 14th at the Evergreen Brick Works in Toronto to participate in a two-day event full of education and action surrounding all things Cannabis. This is your chance to network with industry leaders while exploring the practical, therapeutic and medicinal uses of Cannabis in Canada.
This year's event will be Toronto's largest gathering of cannabis business and consumers, with industry leading panelists and ground-breaking presenters from around the world.
Listen to the industry's top movers and shakers as they share their expertise and research on a variety of gripping topics, from Cannabis investment, to cutting edge health developments, and everything in between. Last year's speakers included Jodie Emery, Dr. Lumir Ondrej Hanus, Dr. Paul Hornby, and Dana Larsen.
Cannabis is a game changer for health, wealth, and opportunity. It's time to de-stigmatize and socialize while learning about Cannabis culture. Don't miss out on being a part of the movement.
"A well put together event the cannabis community can be proud of."
Craig Ex, Founder and Host of Expert Joints
"For me, the Cannabis Hemp Conference in Vancouver during the summer of 2016 was a fantastic place to connect with like-minded people and discover emerging business opportunities in the fast-growing Cannabis Industry. I look forward to attending in 2017"
Bethany Rae, Flower and Freedom
Click Here for Last Years Conference Info
To book your booth contact:
Georgia Tucker at georgia@cambridgehouse.com or 604-355-9603


About Evergreen Brick Works
A community environmental centre that inspires and equips visitors to live, work and play more sustainably founded by Canadian charity and international thought leader, Evergreen. It is a vibrant public space where visitors can engage in a broad suite of hands-on programs that connect nature, culture and community. This event will help generate revenues to deliver onsite programming that support Evergreen's mission of inspiring action to green cities.